With the coming of the modern age, vintage records are kind of suppressed by Sci-Fi gear like MP4s, wireless soundgear, and similar urban sound contraptions. Anyway, records have something that you just can't snuff out – they have a soul.
People are still into turntables and records, and if you happened to be one of them, you might be interested in "where" can you find the best places to supply yourself with the latest records.
We've searched far and wide, and we've decided to make a list of the best record venues you can find in America.
What makes the record shops different?
"Since most of the work is done by singers and performers, there's little that record shops can do – all you need to do is simply choose the record and buy it". This statement is everything but true – there are a lot of different reasons why record shops are different, and there's a manifold of things that make them different:
Small record venues are often low in stock, especially when it comes to the latest, hot records. On the contrary, larger venues have larger stocks, so you don't have to worry about finding your favorite vinyl records.
Keeping up with the trend
Urban record shops are well-informed about the latest trends, and they tend to keep up with time. There are cases when underground musicians emerge on the stage right next to the superstars, and top venues already have their stocks filled with their records.
Decoration and customer service
It's pretty self-explanatory – if a shop is well decorated, you'd feel more inclined to check it out. On the other hand, a good customer service is always better than the place that's beautiful, but fails to accommodate their valued customers.
Records may, or may not be cheap, but there's no reason to overpay your stuff. One of the key-elements that make record shops different is the price of their records.
America's Top Record Shops
1.Princeton Record Exchange
Princeton Record Exchange is located at Princeton (obviously), a small provincial town in the US. This is, essentially, a small record shop that you simply don't want to miss if you're passing by Princeton. This shop has professional staff that really know their work – they're experienced, fast, and, most importantly, friendly to new faces.
One of the best things about this small record shop is that they offer occasional sales on some of their records. For instance, you can easily get your favorite copy for less than $5. They also offer a variety of used records.
Pros:
Great staff – professional and friendly, these people will help you find what you need with ease;
Cheap prices – occasional discounts and used records don't cost too much;
Cons:
The location – Princeton is pretty far away from the capital and famous towns;
2. Double-Decker Records
If you're in Allentown, make sure to visit the Double Decker Records. This little shop is pretty well organized, the prices shouldn't be a problem, and their staff is very good. Even though the shop itself is quite small, there are a lot of vinyl records to choose from.
Apart from the categorized sections, there's a lot of unmarked territory – stacks and stacks of unmarked vinyl record crates for you to explore if you're feeling lucky.
Pros:
Well-organized – there's a lot to choose from, and you'll have help from the staff if you're uncertain;
A manifold of records – great variety of various music genres;
Unsorted vinyl records – when you don't know what you want, simply rummage through unsorted crates;
Cons:
Some records are pretty high up – the lines actually go all the way up to the ceiling, making them hard to reach;
3. Hello Records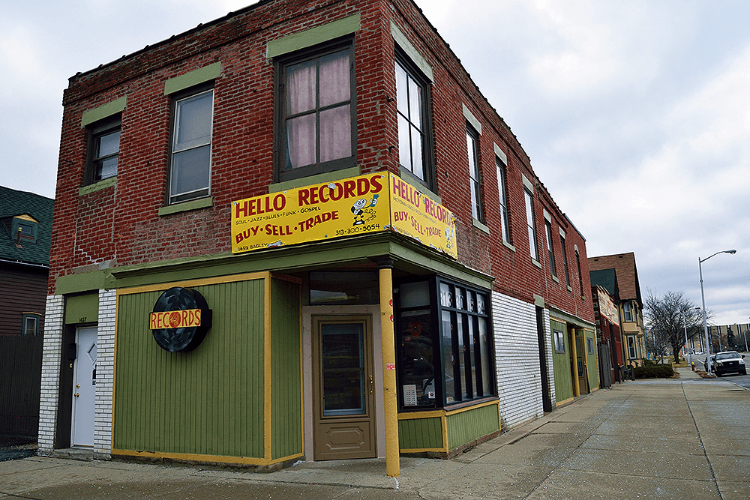 Hello Records are one of Detroit's main attractions for music lovers. The shop is decorated with hanging records, the lines are easily accessible, and the stocks are filled with various soul, blues, reggae, rock, and jazz vinyl records.
The vast majority of records are pretty old, making them even more valuable, and some records date back to early 50s, so if you're into some reminiscence, make sure to check Hello Records out.
Pros:
A lot of variety – reggae, rock, blues, pop, jazz, and more;
Old Gold records – some records date back to early 50s;
Great Location – you just can't miss it if you're in Detroit;
Cons:
Medium prices – provincial shops are way cheaper;
4. My Mind's Eye
My Mind's Eye is nested in Lakewood, and you can find a lot of rare vinyl records there. Metal, Punk, and Rock lovers should check it out, as their stocks are filled with 80s metal, glam metal, post-punk, hard-rock, and blues records.
Pros:
Metal & Rock venue – punkers, rockers, and metalheads heaven;
A large shop – there's a lot of room for you to explore the records freely;
Moderate prices – the prices of records are decently affordable;
Cons:
Extremely popular – even though this is not a flaw, there will be more people rummaging for vinyl records;
5. Double Nickels Collective
Double Nickels Collective is found in Phoenix Valley, and it's practically the best shop out there. Even though most shops categorize their lines in a similar way, Double Nickels lines are simply organized better. Even when the shop is full, you can easily see the stocks of your favorite music genre from afar. The staff is nice, the air-conditioner works 24/7, and their prices are pretty good.
Pros:
Great prices – affordable records, just for you;
A medium-size shop – lots of vinyl records, and lots of space for you to explore freely;
Polite work staff – the workers at Double Nickels Collective are very friendly;
type ik hier quote