Your collection needs a home
When you own a nice and cool collection of albums, you want to store your vinyl in a decent way. Protecting the records from sun or toppled drinks and holding the collection in on place are reasons for storage. But almost as important is vintage look a decent record crate, case or cabinet can have. This is providing you with another option to bring atmosphere in your room. With lots of wood and leather available, retro is for sure an option.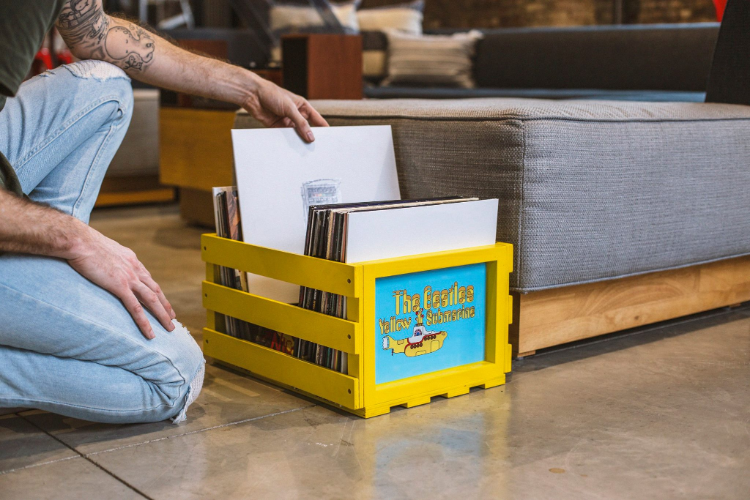 So, what are the options
The most basic option is a storage case. Cases can held up 40 albums and go in a wide variety. Easy to carry and not expensive. A bit more body can be found in boxes or crates. These are lightly bigger which allows more albums, but also is making them harder to transport. The wood of LP crates can give them a very old school design.
And than there are the cabinets, equipped with a turntable on top or designed only for vinyl LP's. These cabinets can hold hundreds of albums.
Things you want to consider before buying
Number of albums: The size of your collection is of course important. With cases and
crates handling up to 60 records, you might need a few of them to store your whole collection. A cabinet can therefor be an good option for bigger collections.
Design and style: Do you want to store your vinyl in sight? Than you need to think about the style of the storage. With cases and crates being available with retro materials as leather and wood, these might go nicely with your interior.
Location: Do you want your collection in one place, or do you consider bringing some albums to friends? When considering transport, record storage cases are an option you might want to consider. Crates are capable of transport, but heavier.
Functional or Notable: Do you want your storage to be an eye catcher? With both storage crates and storage cases with decent design and open sides, you can see the vinyl inside. A box is not offering this view on your collection.
Advantages and disadvantages of storage cases
With being this site aiming for the retro look, we of course start with the design of the cases. What we do like about that is the wide variety cases provide. There are transparent models that provide an excellent look at the records stored within. If you put your favorite covers in front, they still will be in sight. Next to this is the price quite low. There are however not that much printed models available. Cases hold up 20-60 records, making them interesting for a small to medium collection. With cases being very easy to transport, you will have no problem bringing your collection to a friend.
Crates for your LP's
Another solution are crates, perfectly fit for that old-school look you may want to create.
How To Store Your Vinyl Records?
Do you face issues like background hiss or crackle while listening to your favourite vinyl record? If yes, then it is time for you to start caring for your vintage collection by storing them appropriately. Storing your vinyl records at the right place and in the right manner is extremely important.
If you do not take good care of your records then you will end up having scratches, surface noise, and warping. The playback sound quality will get affected and it will reduce the joy of listening to vinyl records. You are paying a lot of money for buying a new piece of vinyl, so by taking care of them you will be able to use it for a lifetime. Read on to know about the various ways to store your vinyl records.
Crosley AC1004A-NA record storage crate:
The Crosley AC1004A-NA record storage crate can hold up to 75 albums. So, you can be in peace as your vinyl records are safe and organized in an awesome storage crate. The solid wood finish provides the crate a vintage look that will certainly match well with your vinyl collection.
Moreover, by using this crate you can be assured of the safety of your records. It is a low-priced product that makes it one of the best and cheapest ways to store your vinyl records. Assembling the crate is extremely easy and its integrated carrying handles make it simple to carry around in the house. Also, the crate can hold each record with its plastic casings, so you can be assured that your vinyl records are absolutely safe.
Set of 3 record album storage cases:
In case you want to store your vinyl records by bifurcating them into several groups, then it will be better for you to purchase this set of 3 storage cases. These cases are available for a very low price and each record album storage case can hold up to 28 standard vinyl records.
This will enable you to organize your vinyl records properly. The storage case has double-zipper closure accurately stitched handles that can keep the records protected. Also, the case is extremely light in weight and can be easily carried from one place to another. It is obviously much better than carrying a bulky box that has innumerable vinyl records. The handles of the bag are durable and sturdy, and can lift the weight of the records easily.
Crosley CR401-TA Record Carrier Case:
If you are looking for an LP storage box that looks identical to the one that you had several years ago, then check out this wonderful carrier case by Crosley. The Crosley CR401-TA record carrier case is a sturdy carrier that looks identical to the vintage storage boxes for LPs or vinyl records. The case can hold 30 albums approximately and save them from wear and tear. It is a tough, vinyl-wrapped case that can protect your LPs from humidity and scratching. Moreover, it is a portable carrier, which makes carrying numerous albums effortless.
If that's not all then some more amazing features of this beauty are corner guards, resin and metal handle, snap closure, robust hinges, and much more. It is a handy carrier while travelling as it will keep your records protected especially during long travels on bad roads. The carrier has heavy duty sides, which looks like it should last for a lifetime. The Crosley case might look like an expensive one for few but it certainly is well-worth the price as it provides ease of transport and years of safety to your favourite LPs. So, buy the Crosley carrier case to provide proper safety and protection to your LPs so that they do not end up getting warped and ruined. (Read here how to fix warped records).
BCW Brand Record Album Storage Box:
The BCW record storage box is an extremely sturdy and well-constructed case that can hold up to 65 vinyl records. It is an apt storage box for music enthusiasts who are planning to purchase a low-priced and durable case for protecting their vinyl records. The box is made up of thick cardboard that has 200 lb. test strength. Moreover, assembling the box is simple and the entire process does not take more than a couple of minutes. It is the easiest and cheapest way to keep the vinyl records safe and secured from dust and humidity. The boxes are ideal for storing and categorizing numerous vinyl records.
1byone Vinyl Record Storage Case:
Another great option to store your vinyl records as well as transport them without any worries is to buy the 1byone storage case. The vinyl record storage case from 1byone is a perfect solution for protecting 30 albums. It is made up of durable hardware metal casing to provide complete protection to your vinyl records.
The case will keep your albums neatly stacked, thus extending their life span. In this carrier, the vinyl records will be fully protected from bumps, dampness, and knocks. The case is available in black and blue colour, so you can purchase the one that suits your preferences or the one that matches with the appearance of your turntable. The amazing vintage look and feel of the carrier can enhance the décor of your living room.
It is a sturdy, vinyl-wrapped carrier case that features heavy-duty hardware inclusive of corner guards, hinges, snap closure, and much more. With this portable carrier case, you can carry your vinyl records anywhere effortlessly. It will also be helpful while carrying your favourite records in a flight journey. The case is not a light-weighted one, and its weight actually makes the carrier robust. It is a well-made product with top-notch quality and appearance. The lid hinges with ease, the handle is sturdy, and the latch works flawlessly – what else could you ask for? So, the 1byone vinyl record storage case is the safest way to protect your albums from wear and tear.
Odyssey Carpeted Recessed Hardware:
The Odyssey CLP200P carpeted Pro LP case can protect up to 200 vinyl LPs of 12" from the regular wear and tear. It is a classic designed case that features ½" ply construction, handles, lid, and recessed steel hardware. The exterior of the case is as impressive as its interior. The exterior has been made by black carpet lining, which enhances its look completely.
The lid of the case is carpeted inside and outside while the body of the case if only carpeted outside with a slight turned cloth on the inside. The lid is fully detachable so that you can get a quick access to your records and organize the LPs easily. The handles of the case are spring-loaded and provide a soft grip to the user. It is a perfect case to be used while travelling with your innumerable LPs as it will keep all your records safe and secured.
The corners of the case are flat and made up of steel. This goes very well with the overall look of the case as it is black in colour and the corners are glowing in silver. Locking system of the case is quite interesting as it has a drawbolt latch, which is heavy weight so it keeps all your records safe. Moreover, there is enough room on both sides of the case, so you can even store your LPs with their outer protective sleeves or in cardboard covers. Overall, it is a rugged and beautiful case that can be a great solution for organizing all your LPs safely in a single place.
Odyssey CLP180E Carpeted LP Record Case:
The beautiful and robust Odyssey CLP180E carpeted LP record case can hold up to 180 vinyl records. It is made up of excellent quality products that make it a pro-grade case. The recessed hardware of the case provides lot of comfort for storing the LPs.
Also, there is enough space in the case that would let you store LPs with their covers. Similar to other Odyssey products, the CLP180E is a sturdy case that can keep all your records protected from humidity and dust. Moreover, it will be an extremely helpful product to carry several vinyl records from one place to another.
The case has an all-black appearance that provides a vintage look to the entire product. It will go well with any décor of the house and is a beautiful and classy storage piece. The case is extremely sturdy and a bit of abuse will not have any effect on the product. The lid of the case is removable so you can check and manage your records easily. Both the interior and exterior of the case is aptly built for providing complete safety to the records.
The carpeting on the interior and exterior makes it super smooth and easy to clean. Moreover, the carpeted finish of the case adds little bit of padding to the case and thus prevents the wear and tear of the record sleeves. The innumerable features and amazing look of the case makes it worth every penny. You can fit vinyl records that are in singles or in box packing. The two compartments provided in the case will let you organize your records easily.
 Eurolite LP-70 LP Case:
The Eurolite LP-70 LP case is an easy to carry case that is extremely secure and durable. It is an apt case for storing up to 70 – 12 inches LPs; however, if you are storing the records in a plastic sleeve with the cover then lesser number of LPs will fit in the case.
The handle of the case is made of hard polymer with soft grip so that it can be carried around with ease. It has a secure latch mechanism that closes securely and can even be locked in case of a flight journey. The interior of the case is very soft as it has foam padding. This ensures that the records are safe and protected. The exterior of the case is made up of high-quality plastic-like material that looks sturdy and durable. The corners of the case are lined with hard-metal to provide extra support to its exterior. The case is available in different colours; like, silver and black so you can select the one that goes well with the furnishings of your room. It will enable you to organize and manage your records easily as the lid of the case comes off.
In short, it is a rugged and stylish record case that is absolutely worth the price. The case will be very helpful while travelling or to keep your favourite vinyl records protected from dust and dampness. Once the records are filled in the case and latched, you can be in peace of mind that your collection is safe.
Magma CTRL Record Sleeve:
The Magma CTRL record sleeve can hold 6" x 12" records. It has been specially designed to protect your priceless vinyl records. The outermost layer of the sleeve is made up of shock-absorbing molded EVA foam and water repellent polyester, which makes it extremely durable. The product even has a mesh pocket that can be used to slip mat or for storage of USB cable. Moreover, it has been designed meticulously so that it remains compact to use as well as manage to fit in the regular 12" records. Its push button closure provides ease in using the sleeve every day. The sleeve makes the entire process of carrying the vinyl records easy and effortless from one place to another.
Atlantic Record Crate Shelf:
The Atlantic record crate shelf is a perfect product for those who are looking for a shelf to arrange and store their records properly. The shelf can store up to 50 records. The two handles of the shelf lets you pick up the entire collection of 50 records effortlessly.
Moreover, you can store your LP records in their original album cover. The natural wood look provides a vintage appearance to the shelf; thus, enhancing the décor of your room. The crate has been designed with top-most quality products and it is a great way to organize your vinyl records and keep them safe and secure.
Conclusion:
The aforesaid products will ensure that your collection is absolutely safe. You can select any of them depending on the quantity of vinyl records that you possess as well as various circumstances. Also, ensure that you handle the records properly. Always hold the record from the edges so that you do not end up having finger prints on the playing surface of the record. You should also clean the records carefully by using a soft dampened cloth. It is a delicate object so make sure that you wipe it lightly. All these simple yet effective tips will enable you to make the vinyl records last for a lifetime.