Suitcase Record Player
The suitcase turntable is probably the most characteristic record player. The looks of these turntables are simply great. But why is there the box? The case is there to protect the record player when it is being transported and keeping out dust when the player isn't used.  But what player should you select and where do you need to look for. With the main reason of being easy to transport you want a suitcase record player to be solid and light. But not only the maneuverability is a reason why so many people look for this type of turntable. There is also the characteristic look. These two reasons combined make up for a though decision because there are many types and styles available.
Most people search for a suitcase player because of the vintage look. We selected the top models for you and listed their pro's and con's.
Crosley CR6019A-BR Executive USB Portable turntable 
The number one on this list is there in many different colors, red, blue etc.
The brown one is depicted here but we advice you to look at the colored ones also. With Crosley being the king of the market you know that you buy good stuff almost every time.This player is not only nice to look at but also comes with an USB port. That means that you can use it to store you're vinyl collection on MP3. It plays 33, 45 and 78 rpm and cost about $100. The sound is okay, especially when you connect the turntable to a set of speakers. Because of the suitcase the player is very easy to transport, a big pro for that is the low weight! Overall this fellow does what is needs to do, it is attractive to look at and the price is reasonable.
Crosley CR8005A-PI Cruiser Portable Turntable 
Well what is there to say. This one is for the ladies. The pink little fellow does the job for a small price. Quite a good sound and a very specific look (but also in other colors). This turntable will look great in a girls room and can even be brought to college! (the main reason why it has over 100 5 stars review on Amazon) Small, easy to transport and with decent sound. Read here our review of the Crosley Cruiser.
This small guy is the one you want, when you do want to travel light. If you are looking for the best sound possible than you are not the right costumer for this turntable. This player is not the best on the market, but that is not what this one is ment for.
This turntable is there to be light, hand-able and affordable combined with a decent sound. And that is what it is doing. For $73 brings this machine the ability to play al the different rpm's and does it give quite a good sound from its two stereo speakers. The durability is better than the looks, so nothing will come off during transport. It will be a good frend for someone who is thinking to bring it along wherever he or she is going.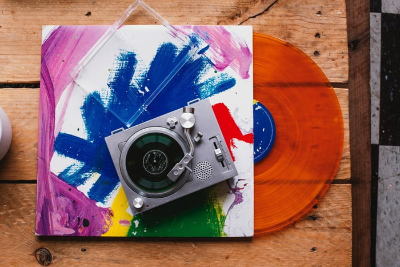 Fore more Crosley Record Players click here.
Summary
Suitcase record players are the most characteristic type of record players. Combined with the easyness of transport, these turntables make a great buy.