Some Facts About Crosley
Crosley was founded in 1920 by Powel Crosley. It was the first company to market a portable radio for the mass crowd. For only seven dollars you could have a Crosley radio, in an time where a normal radio on average would cost about a hundred dollars. A couple of years later, in 1922, Crosley started a Radio Broadcasting Corporation with commerical purposes. Already that year, Crosley broadcasted over 500.000 watts of reach. Mr Crosley is often referred as the "Henry Ford" of the radio.
Trough the years, Crosley became famous for its high end quality turntables. They are in fact one of a kind in their niche. First because of the perfect price/quality balance. Second because of their number one feature, and that is portability. Most of the models are designed as a suitcase, which makes them easy to bring along where ever you're planning te go.
Next to portability, the Crosley turntables have some other unique features. For example, all the turntables have te ability to play records on three different RPM. In this was you can listen to all of your favorite albums with no exception. The most famous models Crosley models are the Cruiser and the Executive. However, Crosley also has an collection of more Vintage looking models. And as we are also a great fan of these, we are now reviewing the Crosley CR704C-PA Musician Turntable. 
The Pro's of This Vintage Turntable
This record player offers you a complete audio-system, with a total of five ways to listen to your favorite music!
Enjoy your Vinyl collection, tune in on the radio (AM and FM), play your CD albums as well as your cassette records, and last but certainly not least – plug in your smartphone or MP3 player in the AUX-In.
It even comes with a adapter to play 45 RPM records, and has adjustable speed.
Only a Few Minor Details
The only outlet to plug in external devices is one for an MP3 player, so it is not possible to hook up speakers. The buttons are a bit hard to read, but fortunately they nearly all have to do with te CD-player. So one should be able to figure out quite easily which button is what for.
The stylus does not automatically return to the cradle when it reaches the end of the record, so you have to put it back manually. The radio dial sometimes has trouble zeroing in on weaker signals and there are no buttons for sound adjustment like treble or bass. (Then again, this is familiar to radio's of a certain age).
Crosley's Signature Design
Even if you don't listen to music all the time, the Crosley CR704C-PA Musician Turntable will be a great addition to your room decor. It is housed in a beautiful Vintage hardwood cabinet finished with rich veneers, and smoothly finished in Paprika. This is one of Crosley's signature shades.
The internal speakers are covered by a diamond pattern black and brown grid, three symmetric tracks on the left and on the right. The straight forward front LED display shows a nice vintage yellow radio dial. The knobs have a more modern look. This is a piece of furniture that will definitely be a great conversation starter in your living room.
And the Sound?

The sound of the two built in speakers fill your room with warm sound. There is a difference between the sound of the Vinyl on the turntable and the CD or radio. The turntable sounds more stuffier and sometimes your hear a little static. Frankly the way a Vinyl record should be heard, in my opinion. It makes the hearing experience more authentic. When turned way loud, the sound does not distort and could easily be heard when you have people over for a dinner or birthday party.
Quality
The built-in stylus looks and feels firm, and keeps steady on the three speeds. The multiple functions on this record player all work quite well. Not only do they sound great, it is very easy to switch in between. The radio has a wire antenna out of the back for reception, and I must say the reception is very good. The speakers sound especially well when playing CD's, as they are likely developed for it.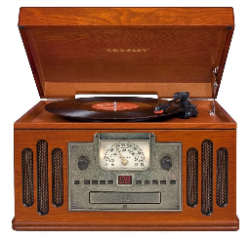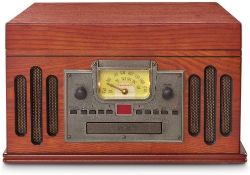 Usability
So, you can play absolutely anything you want on the Crosley CR704C-PA Musician Turntable. U can open and close the lid anytime, it doesn't noticeably change the sound quality. Keep in mind that the records spins trough an open slit in the back of the cabinet, so you can't put it completely against a wall or on a bookshelf.
Like a Vintage dial should be, it can be a bit hard to tune in radio stations with a weaker signal. It brings you back to the old days in some way.
Price
This is a record player in the $$ price range. Check the actual price on Amazon.com here. Taking into consideration that it play's Vinyl records at three different speeds, and next to that play's four more audio carriers. Most of the Vinyl record players alone will cost you more than that, and in addition you would have to buy equipment like amplifiers and speakers.
So, in the range of fifty dollars for low range record player, and over a thousand dollars for high end, this is more than a reasonable price for what you get.
What do Customer's say about it?
Final Verdict
The Crosley CR704C-PA Musician Turntable is the perfect combination of sophisticated Vintage styling with modern day conveniences. Let this classic take you and your loved ones back in time and prepare yourself for a unique listening experience.