The best turntable under 300 dollars!

There is no doubt on the fact that the classical songs are much more musical to the ears as compared to the present ones.
There are numerous turntables available in the markets that offer amazing features and are reasonably priced.
Are you looking for the best turntable under 300 dollars?
Then you have come the right place!
Read on!
In this article, I have reviewed the best 5 turntables that are available for $300 and less.
You can pick any of them as per your preferences.
However; don't forget to check my honest verdict at the end of the article.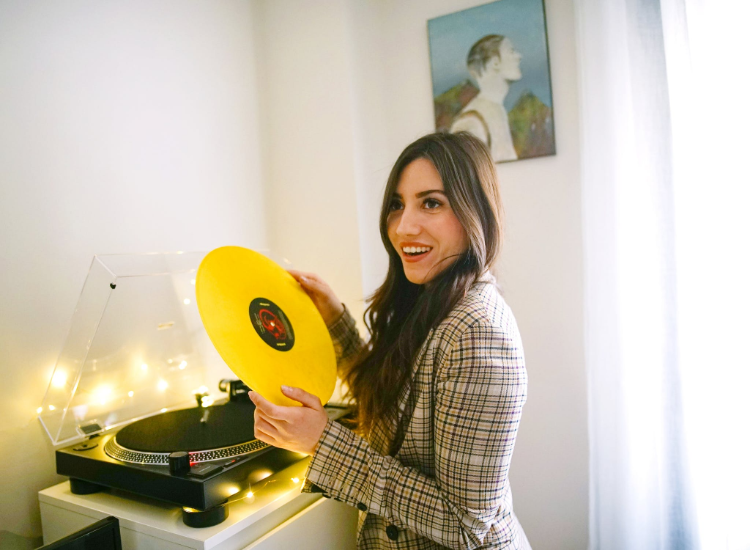 Model 1 – A closer look at the Victrola Aviator turntable
The Victrola Aviator is a compact and beautiful 3-speed turntable that can play all vinyl records as well as your favourite albums. With this player, you can record your most-desired songs from vinyl and cassette directly to a CD, withoutusing computers. The inbuilt Bluetooth device will let you play music wirelessly. The turntable is available in three colours, which are Oak, Mahogany, and White. So, you can select the one that suits your liking.
It is a wooden player that provides a vintage look to the turntable and its wonderful features makes it one of the best players available under $300. The operating instruction manual that arrives with the player is very helpful as it explains each function meticulously. Also, for first-timers the entire session of recording from the record player to the CD has been explained thoroughly. The head phone jack is provided at the lower left-hand corner of the player. Moreover, you can play new as well as old vinyl records on the turntable.
Listed below are some of the amazing features and specifications of the Victrola Aviator turntable:
Specifications
It is a 3-Speed turntable i.e. 33 1/3, 45, 78 RPM.
The Bluetooth capability can stream music wirelessly up to 33 feet.
A remote control is included with the player.
It includes a CD player and recorder, cassette player, built-in stereo speakers, AM/FM Radio.
The 3.5mm Aux-In Jack for music will help you to connect non-Bluetooth enabled devices. The required cable has been provided with the player.
Dimensions of the player: 15.35" x 14.06" x 14.06".
Model number: VTA-750B.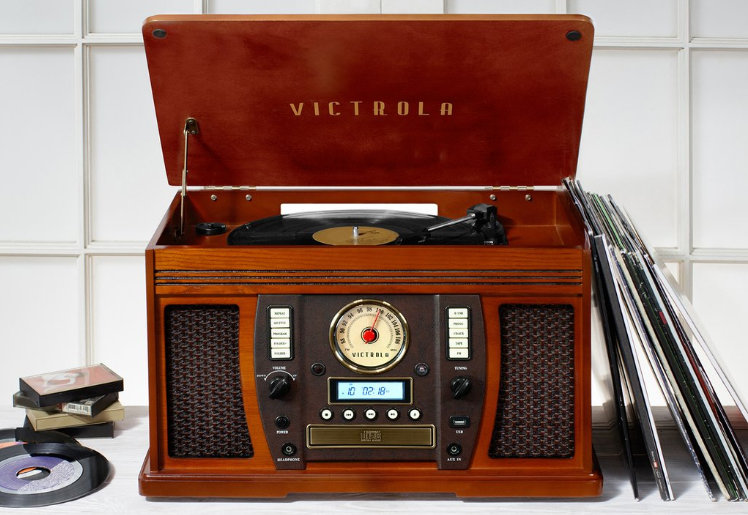 Pros of the Victrola Aviator turntable
The sound is loud enough to reach other rooms.
The cassette and auxiliary work without any issues.
It is inbuilt with several features and is available for a good price.
Bluetooth functionality will let you play your favourite songs from the phone.
Cons of the Victrola Aviator turntable
A sound equalizer option could have made the player amazing. However, it is not that bothersome as the sound is wonderful!
Model 2 – The Pyle PTCD54UB Record Player
The Pyle PTCD54UB is a classic style turntable that is inbuilt with modern technology. It is an elegant wood-crafted record player that has a Bluetooth wireless music streaming ability. You can easily turn your vinyl records into digital audio files with this player. The sound quality of the player is top-notch, so you can enjoy all your favourite vinyl records. It has a front loading single CD player tray and a slot-in cassette tape deck. You can connect and stream audio effortlessly from the external devices.
The instruction manual provided with the player is quite helpful as it provides detailed information of each feature and part of the record player. The Bluetooth can stream the audio through the player's speaker system and can work on all of your favourite devices inclusive of Android, Smartphone, iPhone, etc. It can also record cassette, CD audio, AM/FM radio and much more. You will even receive a replacement needle / cartridge in case you require it in future. Moreover, the player can be plugged into the wall.
Mentioned below are some of the amazing features and specifications of the Pyle PTCD54UB turntable:
Specifications
It is a three-speed turntable i.e. 33-1/3, 45, and 78 RPM.
AM/FM Radio with Dial Display.
Inbuilt stereo speakers.
5mm Aux Input Connector.
Includes a 45 RPM Adapter and 3.5mm headphone jack.
Model Number of the player: PTCD54UB.
Dimensions of the player: 17" x 13.2" x 23.2".
Power: 120V, 60Hz AC only.
Pros of the Pyle PTCD54UB turntable
It is a compact, lightweight, and multifunctional record player.
Brilliant wood cabinet that makes it sturdy and attractive.
The player has clear sound with good bass.
The remote control that arrives with the player is quite handy.
Cons of the Pyle PTCD54UB turntable
The radio does not have lights on the display so it makes it somewhat hard to read. However, it is a minor demerit in comparison to the wonderful features that the record player offers.
Model 3 – Electrohome Signature Vinyl record player
If you are looking for a powerful record player with the modern technology of  music system, then the Electrohome record player will be the best choice. The amazing features of the record player make the music enthusiasts as well as casual listeners have an enjoyable time. You can listen to your favourite vinyl, MP3 music from CD, AM/FM radio, or songs from your smartphone easily on this recorder.
The cabinet of the player is meticulously crafted with real wood that provides a rich and antique look. It can match any décor and make a great addition to any home. The instruction booklet that arrives with the player is easy to understand. It is one of the finest all-in-one record players that are available for such a reasonable price.
Mentioned below are some of the remarkable features and specifications of the Electrohome turntable:
Specifications
Fully automatic belt-driven turntable that can spin 7, 10, and 12-inch records at three speeds.
The 3 speeds are 33 1/3, 45, and 78 revolutions per minute.
The 3.5mm auxiliary input can play music from iPad, Android, iPhone, or any other smartphone.
Versatile system that lets you record vinyl to MP3 easily and effortlessly. This can be done without the use of computers.
The rotary control knob and amber lighting on analog tuning dial makes it a classic piece that can beautify every house.
Includes a remote control for CD and USB.
Product Dimensions: 20.1" x 16.3" x 14.3".
Model Number: EANOS700
Pros of the Electrohome turntable
The sound quality is exceptional as the speakers are mounted in acoustic chambers.
It has an excellent radio reception with no frequency drift.
The 'diamond tipped' ceramic needle provides amazing audio performance. Moreover, it will make sure that your most cherished albums do not get spoilt.
The inbuilt USB port will help you to record any vinyl album to MP3 songs without connecting to a computer.
Cons of the Electrohome turntable
No doubt that the sound is amazing; but a few more adjustments for bass or treble could have made the player much better.
Model 4 – Teac LP R550USB
The Teac LP R550USB is an all-in-one system that offers full digital recording capabilities. It provides the user an ultimate playback and recording solutions. It is a compact audio system that includes CD, turntable, AM/FM tuner, cassette, and USB. 
With this amazing system, you can transfer your favorite collection of songs to a digital format with the CD and USB within few seconds. The Teac LP R550USB system is perfect for listening to loud music at a party or you can have a private listening experience by connecting a pair of headphones.
You can convert any album from vinyl, AM/FM, cassette, or auxiliary input sources and record CDs. Moreover, to have a great sound recording you can even adjust the source input levels while recording CDs. The USB interface can be used to convert your preferred collections into digital files on a computer. Thus, you can load them onto a media player on your computer and enjoy your recordings while on a go.
Read on to know more about the specifications, features, pros and cons of the Teac LP R550USB system:
Specifications
3-Speed turntable – 33 1/3, 45, and 78 RPM.
Available in black and walnut colour.
Cassette player with high/normal tape positions.
While recording to a CD you can either use automatic or manual setting of track numbers.
CD-R/RW recording from Phonon, tape, AUX, tuner.
Bright and easy to read LCD display.
USB port, audio input and output, headphone output.
Includes a remote control.
Easy to use as it has dedicated buttons for frequently used functions.
Instruction manual provides in-depth explanation of the features and parts of the system.
Dimensions of the player: 22.5" x 18.5" x 12.5.
Model Number: LPR550-USB
Pros of the Teac LP R550USB system
Transferring music from cassette and vinyl to CD is extremely easy.
It ensures that the old melodious music is transferred to a CD and preserved for years to come.
The system performs flawlessly on the numerous modes that are available and is absolutely worth the price.
Amazing sound quality even at high volumes.
Cons of the Teac LP R550USB system
Few tone controls on the unit could have made the system much better.
Model 5 – Audio Technica AT LP120 USB
The Audio Technica AT LP120 USB direct-drive professional turntable is perfect for music enthusiasts as they can hear their favourite vinyl records easily. All you need to do is connect the turntable to your computer and digitize the old vinyl records to high-quality MP3 files.
It is a fully manually operated turntable that arrives with a detailed operation instruction guide. Some of the accessories that are included with the turntable are AC line cord, 45 RPM adapter, recording software, USB cable and much more.
Mentioned below are some of the amazing features and specifications of the Audio Technica AT LP120 USB.
Specifications
Three-speed turntable; 33, 45, and 78 RPM.
Includes an internal stereo pre-amplifier and USB output so that you can connect directly to your computer.
Adapter cable and USB cable has been provided with the turntable.
Includes a cartridge and headshell that work perfectly well for home audio listening.
Has a high-torque direct drive motor so that you can start up quickly.
Mac and PC compatible Audicity software, which can digitize the records easily.
Available in silver and black colours.
Power: 120V AC.
Product dimensions: 21" x 9" x 17".
Model number: AT-LP120 USB BK.
Pros of the Audio Technica AT LP120 USB turntable
Converts the vinyl records to digital audio files effortlessly and quickly.
You can enjoy your favourite music on a go as all your songs will be recorded for playback from your computer.
Recommended turntable especially for its price range.
Cons of the Audio Technica AT LP120 USB turntable
The turntable does not have internal speakers, which certainly is a hassle for many. However, the quality of internal speakers vary a lot in turntables. Off course this is a matter of expectations. Also, the turntable has an inbuilt pre-amp that will let you hook it up directly to speakers.
What is the Best Record Player Under 300  dollars?– Verdict!
After reviewing the amazing features and price tag of innumerable record players, I would suggest you to consider buying the Pyle PTCD54UB record player and/or the Teac LP R550USB CD Recorder with cassette turntable.
The best feature of the Pyle PTCD54UB player is that it can play everything – which includes MP3, CD, vinyl, FM/AM, cassette, and Bluetooth. It is a perfect turntable for parties as the sound quality is excellent and can play very loud to make the occasion special. As the remote control is provided with the batteries, so you could use the record player right out of the box. The innumerable features and low price makes it one of the best record players under $300. So, if you are looking for an attractive turntable with modern features and booming sound then this will be a perfect deal for you. Believe me; you won't be disappointed!
On the other hand, the Teac LP R550USB is a complete audio and dubbing system with CD recorder, turntable, computer interface, cassette player and AM/FM tuner. The best feature of the system is that it will transfer your favourite music collection into a portable and digital format within seconds. It is an ideal system for both recording and listening to music as it features bass-reflex type of speakers that boost low frequencies. Moreover, the inbuilt-speakers make it a perfect desktop music system for home or office. The system has multiple purposes and lots of extras and will be a perfect addition to your living room.
I have finally found a good source to enjoy my vinyl records again! The beautiful nostalgic looking cabinet is a great addition to my living room and I just can't take my eyes off it.
And what about other players?
Next to these great five models, the market has numerous models to offer in this price range. We review a couple of them comprehensively on our website.
Think of the Fluance High Fidelity Vinyl Turntable for example, or the TEAC TN-300 . Both a nice addition to the mentioned models above, because the main focus of these turntables is producing absolute superb sound. Not that much of eye catchers as the other models on this page, but as we said, that is not the main purpose of these ones. Want to lift your Vinyl experience to a more professional level? The Fluance and TEAC are the turntables for you.
In fact, the same goes for Gemini Turntables. They simply don't invest that much in the outward appearance and the design of their turntables. They focus on performance and simplicity.
Innovative Technology seems to have found a compromise on the factors of sound and appearance. Available in a very wide price range, we tried to stick to the models that look good and yet are affordable.
Because we think the Pyle PTCD54UB player is one of the best record players under 300 dollars, we think it is good to mention and review some other Pyle models in this price range. Have a look at the Pyle PVNTT6UMRBT Retro Vintage Classic if you want a genuine vintage vinyl player with some nice software options. Some of the vintage turntables provide that true old school look and yet come with Bluetooth and a remote control. Check the Pyle PTCD56UBGR Record Player Stereo System if it matches your wishes.