Pro's: We of couse went for the design of this Crosley model. When placed in a room, this Crosley Record Player Console becomes a centre piece. The big wooden cabinet also provides some decent music and bass. The console also feel's high quality.
Cons: It is big, very big. So when you like the design but you don't have that many space, you're in bad luck. This boy is not easy set in a small corner. This item therefor is not very well suited for a student room, let alone be portable.
Crosley CR44CD Turntable Console with CD Player and AM/FM Tuner Review
Would you like to add just a pinch of the old-fashioned, of the old-timey, to your home – you know, that little extra bit of class? How about playing music for those quiet evenings near the fire, with a good book, or maybe at a party for close friends? You might ask yourself, what do these two questions have in common – what does playing music have to do with buying elegant things for my house? Simple, the Crosley CR44CD, that's what.
The design of this beautiful turntable evokes memories of mom's apple pie, baseball and old western radio dramas. A light, almost golden brown casing made of fine hardwood and veneers envelops the turntable, while in the lower center there are three grills coming over the reddish dark brown mock speaker, giving it a slight "Art-deco" feel. The actual speakers are found on the sides of the turntable. The radio transmission and outer electronics are themselves also a bit old-timey, as far as their design goes, being a muted, metallic gray.
However, what is definitely not old fashioned is the sound quality itself. While playing records does produce that old scratchy sound that just swells with nostalgia, the actual quality coming from the radio and the CD player is very modern. In essence, you get the best of both worlds. The electronics inside the Crosley CR44CD are state of the art. The sound you hear, which comes from dynamic full range speakers found on the side panels, is crisp and clear, with a nice level of loudness for home use.
The material and electronics are of a very high quality and will last for a long time. The turntable and all other parts are easy to use and you simply won't go wrong with this product. It is perfect for homes that try to maintain that old, traditional style, but is also an excellent addition for anyone hungry for some good, old-fashioned Americana.
The inbuilt analog radio has amazing reception and will easily pick up any station you want. The dials found on the radio may be a bit bumpy to use, but honestly, that just gives you that old American feel of an antique radio.
The CD player is also a fine addition when you want to shake things up a bit and not use the record player. On that note, the player plays record at 33/45/78 rpm speeds. There are two speaker jacks found on the back panel of the product, in case you wish to amplify the sound with your own speakers. Turn on the radio, or put on your favorite record, and just relax.
Features and specifications:
The dimensions of the product are 36 by 13 inches
It weighs 50 pounds
Analog AM/FM tuner
Memory card that can store and play around 20 tracks
Dynamic full range speakers
Golden brown (Oak) color
Old Fashioned Americana design
Style
Much has already been said about the looks of this product, but there is still more. A great deal of effort has been put into this product. The item's color and construction have been greatly influenced by old antique radios and turntable consoles, all so Crosley can give you that old, vintage feel.
The most defining feature of the Crosley CR44CD is its amazing authentic look. It is elegant, it is classy, it is a must have for anyone in need of their nostalgia fix. When you look at and use, the Crosley CR44CD, you see Bogart, you hear Sam playing "it" again. The golden brown oak panels, the curves, and lines of the CR44CD evoke images of a bar in Casablanca, of the all-American homestead, of times long gone and perhaps, golden times, golden in the mind, if not in the history books.
Craftsmanship
Crosley has proven time and time again that it is a trustworthy and honest company. Their equipment is durable, well made and will, simply said, not let you down. The parts used are of the highest quality, which allows for the clear sound and the durable configuration to happen.
The lid over the turntable fits the base snuggly when closed, and the needle is very durable, never moving away from where it should be after years of use. Your brand new vinyl collection will find a new and safe home.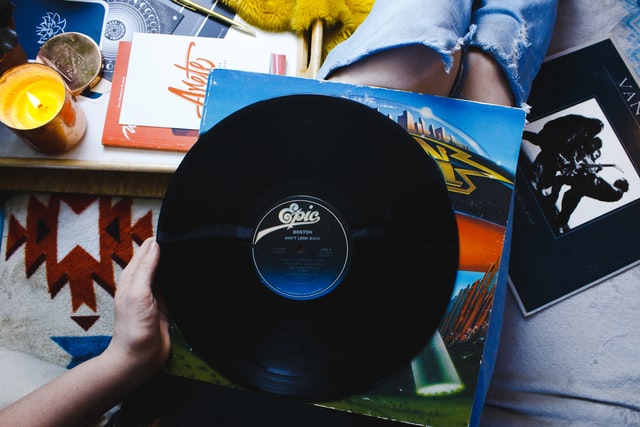 The weight and sturdiness of the product give you a feeling of safety and stability towards your records. Let us now proceed to a brief rundown of good and not so good things about this item.
Pros:
Wonderful, original design
High-quality material
Easy to use
Strong radio reception
Cons:
Slightly weaker speakers*
*Notes: While the speakers do lack in strength for a full-on house party, this can easily be fixed, as you can hook up a pair (or more) of speakers to the turntable.
Customer Reviews and Scores
The Crosley CR44CD has received very positive reviews, gaining an average 4 out of 5 stars on amazon, based on 58 customer reviews. At the time of the writing of this article, out of these 58 reviews, 54% gave the product a perfect 5 out of 5 rating, 24% gave it 4 out 5.
The reviews of the people who were not as thrilled as about the product as much as the 78% of people who overwhelmingly are have a common theme. They are unsatisfied with the strength of the sound, as well as the fact that the turntable lacks a graphic equalizer.
However, all this is easily remedied by hooking up actual speakers, if you truly want to play music for a whole party. However, even these negative reviews agree that the quality and the design of the product are unsurpassed. If you care about style and just want music to play some music for yourself in your den or study, slightly weaker sound and a lack of a graphic equalizer should not be a problem for you, at all. Overall, the folks who used this product have given it a thumbs up.
The price
The cost of the Crosley CR44CD falls into the $$$$ price range. Check the actual price on Amazon.com here. While the sum is not exactly something a person would call light, it is quite fair. The sound quality is very good for its price and when compared to other products of this type, it surpasses them by design and style.
While you may pay a few dollars less for a turntable with the same sound quality, you miss out on the old fashioned design, the quality wood and craftsmanship that are so central to Crosley CR44CD. Not to mention that many don't have an analog radio built in with the turntable. The weight and parts used for this product make it very durable and very stable – it's almost guaranteed to last for ages.
Conclusion
Elegance and durability, two words which can easily describe the CR44CD. At a fair price, you will get a vintage-looking and beautiful turntable console that will both decorate your home and fill it with high-quality music. In our opinion, this is a must-have for anyone who values the nicer, more elegant, things in life. This is an investment worth making, leaving us with no choice but to give the CR44CD a thumbs up.