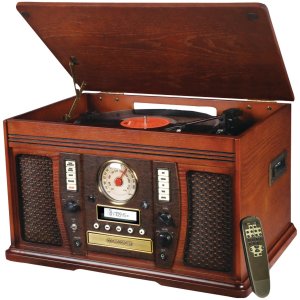 Pros: There is no denying this is a world class item. Innovative Technologies is bringing one high-end model to the table. With the ability to record music, play CD/Cassette and FM Radio, this model is well equipped. Combine with that the solid design of the chest and warm, full range sound and this turntable is both retro to look and modern in performance.
Cons: The manual is quite hard to understand. Innovative Technologies could have done a better job with that, the model now has a bit off a learning curve before one could operate the recording function smoothly.
[easyazon_infoblock align="center" identifier="B00UMVVZKG" locale="US" tag="vinyllove-20″]
Sound and speakers
If you would like to purchase a record player, one of the main concerns is for sure the sound it will produce. Although the models are more and more style items, the basis for purchasing is still the vinyl sound.  And that' s one aspect that is covered with great care. The sound is clear and warm with enough volume to fill a room.
[easyazon_cta align="none" identifier="B00UMVVZKG" key="wide-light" locale="US" tag="vinyllove-20″]
Sound and Volume
The speakers from the Aviator Music Center itself are not big enough for hosting a party, with high volume the bass becomes of lesser quality. For that you will need to hook up external speakers (which can be done easily). The volume can be compared with that of small radio, good for the background or some more atmosphere, but not designed for loud beads.
For other models, please see our full record player guide.
Looks and design
Vintage, retro and old school. Those are the terms to describe this particular Aviator model. The impressive wooden chest with prominent speakers and analog display is giving  a 40's appearance. The white buttons and rotary knobs contribute nicely with the design. The small display is giving extra information about the recording progress or played track.[easyazon_cta align="none" identifier="B00UMVVZKG" key="wide-light" locale="US" tag="vinyllove-20″]
One detail that is showing the thoroughness for this model is the really old school switch that is needed to turn on the player.
USB recording function
This is the part most of the reviewers on Amazon talk about, this is what is making this item unique. There is no PC or laptop needed for recording, your whole vinyl collection can be put immediately on CD. Making it suited for bringing your vinyl collection to the car for instance, or another stereo system. Do notice that the manual needs to be followed very precise to get high quality recordings! An interesting extra option is the recording of cassette, also these can be converted to CD.
[easyazon_cta align="none" identifier="B00UMVVZKG" key="wide-light" locale="US" tag="vinyllove-20″]
Extra Features and Amazon Reviews
Beside being able to handle LP's, CD's and cassettes, the player also is receiving FM radio, making it an all round Music Center. Supplied with the item is the remote control that is giving you the opportunity to control the model from your chair. With dozens of positive reviews on Amazon, reviewers do agree on the great  sound and retro looks of the vinyl player.
Verdict
We did like the design, sound and recording function. Also the extra features as FM Radio and CD function are adding value. With the "nod-PC-needed" recording option making this player unique, this is an interesting option. The price of around $150 is one in the mid-range. Thereby this item has a good price-quality balance. These points combined are making this Innovative Technologies Aviator Wooden Music Center a decent choice for consumers that look for a retro designed record player without going for the top (priced) items.
[easyazon_cta align="none" identifier="B00UMVVZKG" key="tall-orange" locale="US" tag="vinyllove-20″]