The City of Boston is also known as the capital of Massachusetts. This great city houses beautiful harbors, many magnificent museums, New England Aquarium, but it also shelters some of the best record shops across the entire United States.
Frankly, this city lacks the quantity of record shops, but that's easily compensated for by the quality of record venues it can offer you.
The record shops in Boston offer budget records, premium-quality vinyl cassettes, cheap & used records, but you can also find rare editions, iconic albums,  limited edition sales, and more. Let's see which shops are Boston's finest:
1. Cheapo Records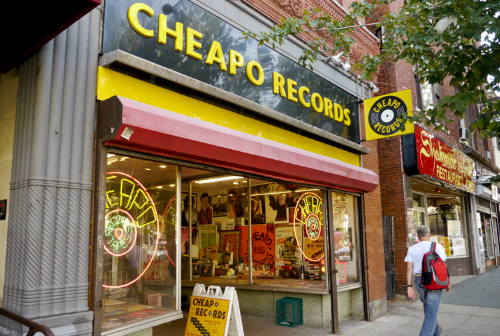 Well, the name says it all. Cheapo records offer vinyl records at an affordable price, and their stocks are filled with hand-picked rock, folk, jazz, country, oldies, and rarities. They've been around ever since 1954, and pretty much everyone in Boston knows about them. If you want to lighten your wallet a bit, this is a perfect place for a record hunt.
2. Nuggets Records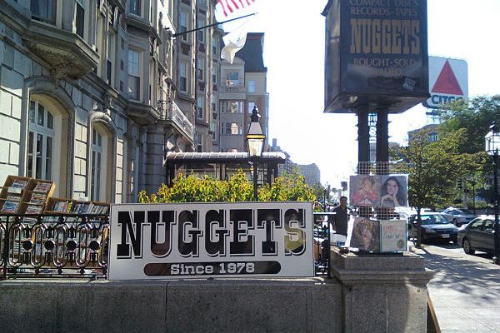 Nuggets Records have been selling records ever since the last century. There are still some old VCRs, and most kids won't even know what this "silly tech" is. Anyhow, their stocks are quite large, as they feature classic-rock, pop-rock, blues, jazz, soul, R&B, and more. Furthermore, the cheap-records bin is literally a treasure throw which holds many surprises.
3. Undergroundhiphop.com
Undergroundhiphop.com is better known as UGHH.com. This venue is a rapper's dream, and a hip-hop enthusiast's paradise. However, there's little for people who like other types of music. The UGHH.com offers various T-shirts, graffiti cans, watches, and other hip-hop merchandise. They also host occasional live performances from local rappers, so this is definitely a place to be if you're into this music genre.
4. Weirdo Records
There's a perfectly logical explanation behind the name of "Weirdo Records" – everything about it is unusual, to say the least. Now, Angela Sawyer (the owner of Weirdo Records) started out from her Somerville flat, and expanded the business in Central Square. The stocks of this record shop are fairly limited, as the focus is mainly put on foreign, experimental, and progressive music. It's safe to say that everything here is rare, but you won't find classics or oldies.
5. Armageddon Shop
With such a doomsday name, you simply can't be mistaken – Armageddon shop is here for metal heads, punkers, hard-core people, and industrial fans. This record venue houses a wide selection of extreme music, and this is the place to be if you're searching for Cannibal Corse, Metallica, Rammstein, or Crowbar.
You can find Armageddon records on the Eliot Street, Cambridge, or at armgeddonshop.com.
6. Newbury Comics
Newbury comics offer a wide selection of premium-quality vintage records. Their stocks are very versatile and well-kept, and literally every music enthusiast can find a piece of gold to call his own. Apart from the manifold of records, Newbury comics sell (you guessed it) – comics. New and old, popular and obscure, their stocks will never fail to amaze you, so pay them a visit next time you're around.
7. Skippy White's
Skippy White is the owner of this magnificent shop – he's 78 years old, and his shop is 54 years old. They both mean business, and that's the point they passed on to their customers for five decades straight. Skippy owns a shop that's nowhere near organized, but this just gives you more reason to come and dig through the uncharted territory and undiscovered treasure of Skippy White's.
This record store raised the bar and introduces hip-hop to Boston back in the day. The stocks, however, boast a versatile arrangement of blues, jazz, R&B, and, of course, rarest hip-hop finds out there. The prices are neat, so go get them.
8. Planet Records
Planet records' fate was unlucky one – they survived floods, fires, the downfall of music, and more. This is what kept them alive, though – their staff know what it feels like to be down, but they've risen again so that you can enjoy their record stock selection.
Since Boston isn't exactly brimming with record shops, it would be a shame if the Planet closed down. Their hard work and persistence were rewarded by the loyalty of their customers, and they work ever so hard to deliver the premium-quality service.
9. Tres Gatos
Tres Gatos (literally, "Three Cats"), is one of those shops that you don't exactly know what they're offering. This is a bookstore, a mini-restaurant, and a vinyl record shop. An ideal way to start a day is by eating while reading a book, after which you can dig through the boxes of vinyl records.