Pro's: This versatile audio system serves your every audio need. Especially the vinyl-to-Mp3 recording is quite easy to do and most appreciated by users. The Black Cabinet will look stylish in your home-decor.
Con's: Although the in-built speakers are quite good, it doesn't have an pre-amplifier. So there is little room for extra sound with external speakers.
Jack of all Trades Pyle PTCDS7UBTB Bluetooth Turntable!

Turntables serve as an elegant way for rekindling your zeal for music since they allow you to listen to your favorite old records in your vinyl collection. However, there are numerous great models offered today for you to choose from. Well, which one should you purchase? The obvious determining factor should be the sound quality. Does the turntable deliver your desired sound quality? We all can agree how much fun and fulfilling it is to listen to your old favorite music, especially when played from a high-performing turntable with the latest technology.
Pyle PTCDS7UBTB is perhaps one of the best turntable models out there. This record player not only allows you to enjoy your favorite vinyl records but also lets you convert your vinyl records into a compact digital audio library. The good news with Pyle PTCDS7UBTB is that it delivers high-quality sound and offers you diverse options to play your music: not only is it an LP player, but it is also a CD and cassette player as well as an AM/FM radio with built-in stereo speakers. Let's take a closer look at this outstanding performer.
Features and Specifications
Classic Record Player with Modern Technology
3-Speed Turntable: 33-1/3, 45, and 78 RPM -plays all your favorite vinyl records.
AM/FM Radio
Vinyl-to-MP3 Recording Ability
Aux (3.5mm) Input Connector Jack
Built-in Bluetooth
Dual Built-in Stereo Speakers
Blue Back light LCD Digital Display
Simple Rotary Knobs and Button Control Center
USB Flash Drive and SD Memory Card Readers
Plays Your Favorite Digital Audio Files
Rear Panel RCA (L/R) Line Output Connector Jacks
Ability to Connect External Audio Speaker Systems
Front-Loading Single CD Tray
Side Panel Cassette Tape Slot
Headphone Jack (3.5mm)
Slide-Out Device Holder
Collapsible Top Lid Cover Reveals Record Player
Includes 45 RPM Adapter & Remote Control
Specifications
Color: Black / Brown
Dimensions: 16.5 x 11.8 x 18 inches
Item Weight: 17.3 pounds
Warranty: One year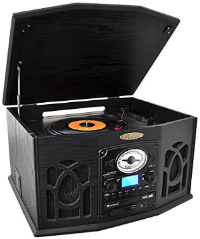 Bluetooth Connectivity
Designed with the latest technology, Pyle PTCDS7UBTB features an inbuilt Bluetooth that allows you to enjoy your music from your iPhone, Android, Smartphone, iPad, or Tablet device. It can connect with virtually all Bluetooth-enabled devices, enabling you to stream your records via the dual built-in stereo speakers. Moreover, as a three-speed record player you get to play all your vinyl collections with zero difficulties whatsoever.
Vinyl-to-MP3 Recording
The outstanding unit also comes with a Vinyl-to-MP3 recording feature that converts your favorite vinyl records into a compact digital audio library. The process involved in creating MP3 files is pretty quick and easy, which gives you an added advantage since you save and share your music with your friends. This classic style turntable allows you to record your vinyl music to a connected SD Memory Card or USB Flash Drive. Moreover, you can as well record cassette, CD and Bluetooth audio. With a USB cable, you can quickly and easily transfer your created files onto your Mac or PC.
Pros
Excellent sound quality
Cool retro styling
Converts vinyl into MP3
Reasonable price
Cons
Customer Reviews and Scores
The Pyle PTCDS7UBTB has consistently earned very high ratings from customers, which is evident from positive customer reviews on Amazon. Most customers report using this record player without any glitch and feel completely satisfied with this product.
Despite the high ratings of this product, several users agree that the sound coming out of this unit is not loud enough. However, the sound quality appears not to be a major issue for the majority of users. For those who enjoy their music at a high volume, they can achieve this by connecting to an external speaker system or amplifier via the RCA output.
In regards to its features and characteristics, this turntable is appreciated for its ability to convert old records into mp3 formats making it easy for users to transfer music to their computers and share with their loved ones.
The Bottom Line
If you are on the search for a very retro inspired record player, The Pyle PTCDS7UBTB includes all that you can ever need in a turntable at affordable prices. It's perfect suit for vinyl enthusiasts and those that like listening to their favorite vinyl records from their smart devices. This player is also a great tool for digitizing your vinyl albums in an easy way, which renders it perfect for those seeking a ready to play turntable. Considering the quality of sound and the affordable price this unit has exceeded the expectations of many customers.