Introduction – What is a turntable preamp?
The Turntable preamp is commonly called the turntable phono stage (or turntable preamplifier), and it's an electronic form of a circuit that applies amplification to the signals which are coming from the cartridge, sending it further to the power amplifier input (or an audio system).
The signal which comes from the turntable needle is actually extremely low so it needs to be amplified for more than a dozen hundred times before it reaches a standard level (commonly known as AUX). Plainly speaking, the preamp is used to connect your record player to the amp, converting the phono levels to line levels.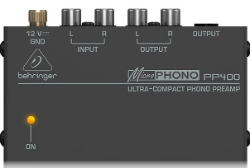 How does it work?
Basically, the turntable preamp serves a purpose of amplifying the signal which comes from the needle. Some needles (turntable stylus) can be adjusted, some are heavy while some are light and send signals of the lowest frequencies, but all these signals are so low that they need proper amplification before they can become music.
The preamp is the bridge between your turntable and the amp – if we would observe a theoretical viewpoint where the turntable plays music through the amp alone, we could easily note that the music output would be raw, and maybe even unpleasant for human ears.
The signals sent from the turntable stylus may be somewhat accurate, but the amplification without a preamp is too vehement – preamp can finely and accurately redefine that signal and boost it to the point where it can become a note, a chord, or a song.
Here's a visual of how to connect a turntable preamp to an amp and turntable
What to look out for when you search for your Turntable Preamp
Looking for the best record player built in preamp is extremely hard, even if you have some knowledge of turntable tech. There are various models that offer similar features, and most attributes and benefits are not visible by naked eye – each record player built in preamp features tiny parts which work on a micro-scale towards the improvement of performance of your turntable.
By saying this, there are a couple of things you ought to look out for:
The first thing you should consider should be compatibility
Some models can only be paired with similar types while some turntable preamp models can be attached to any speakers or turntable models, but with reduced efficiency. Inquire about the type of magnets and coils of your turntable and search for similar preamp;
RIAA equalization is extremely important
RIAA equalization determines the sound output at different frequencies, ranging from the lowest to the highest possible. Some models excel in balancing this scale while some are not so proficient.
Adding a couple $ more could mean a lot
Record player built in preamp models are usually cheap, but there are some very expensive models. If you are in a dilemma between two models that cost nearly the same, always opt for the one that costs more. These little contraptions will last for quite a while, so by investing a couple of dollars more you will benefit greatly.
Best Turntable Preamps reviews
ART Pro Audio DJPRE II Phono Turntable Amplifier
ART Pro DJ PRE-II gives you means to boost your turntable performance for a bargain price. It's exceptionally affordable, and it's meant for both professional and home usage. It comes supplied with low noise phono (preamplification) circuitry which is very accurate and conforms to all RIAA standards.
Anyhow, one of the most useful features is the low-cut filter. It helps you remove a decent amount of rumble and background noise in your turntable performance, and it's a great combination with the gain control knob – you can customize your sound with ease.
There's one small problem, however – DJ PRE-II does not feature a power switch, so you can't just shut it down or power it up. It will constantly drain energy unless unplugged. This downfall, however, can be avoided if you use it rationally, only when you intend to use your turntable or to tinker with it.
One of the best record player built in preamp models on the market, definitely.
Pros
Very affordable;
RCA input and output;
Ground terminal;
Adapter included;
Cons
There's no "off" button. You can only switch it off by unplugging it from the power source
Behringer MICROPHONO PP400 Ultra-Compact Phono Preamp
A small Behringer preamp which purpose is to boost the signal input from your turntable up to the point when it reaches the line level. One of its most important features is simplicity – it serves a single function and it's doing it great.
The Behringer PP400 is a catalyst that balances the power of the signals which come from turntable stylus, amplifying it just enough so that it can be made audible when received by your turntable's speakers. It comes supplied with RCA, RCA inputs, and a handy power indicator. This set also includes the DC adapter.
Pros
One of the best record player built in preamp models on the market;
Low-noise audio amp;
Dedicated RCA;
DC adapter included in the set;
Cons
Not the best preamp when recording is in question
Rolls VP29 provides a simple way to effectively boost the signal from your turntable. It's very compact and reliable, and it comes at a satisfactory price. The circuitry of VP29 provides the RIAA balanced equalization curve, and it operates smoothly and quietly. It comes supplied with two RCA inputs, a ground terminal type of connection, and two RCA stereo outputs.
This model also features increased flexibility due to the separate stereo output (0.125-inch). It's corded and powered by electricity, but it's extremely portable and doesn't take up any space wherever you place it. It definitely deserves the place among the best record player built in preamp models that money can buy.
Pros
RIAA equalization;
Noiseless operation;
Separate 0.125-inch stereo output;
AC adapter comes with the set;
Cons
Possible buzzing noise before the record starts spinning
TCC Tc-750LC Black Professional Moving Magnet Preamp
The TC-750LC is an improvement of the older model (TC-750) by TCC with more balanced RIAA curve, higher performance, and at a bit higher price. Anyhow, it sounds exceptionally great, and this upgraded added an adjustable output – the overall performance of records raised the bar because it allows calculated setting of the recorded levels.
This improved version also included the 1%-tolerance resistors which give a precise RIAA equalization curve. It's versatile enough to be useful for PCs, sound cards, audio systems, and turntable models, but the possible field of use for this model stretches even further.
Pros
Remarkably versatile;
Pinpoint precision of RIAA Equalization;
Ideal for both recording and music listening;
Cons
Adjustment and customization might prove difficult as the numbers go too fast with but a small adjustment travel
Music Hall Mini MM Phono Pre-Amplifier
There's a couple of things you need to know before we even begin – Music Hall Mini represents a moving magnet preamp that should be used with moving magnet (or moving coil) cartridges. The results could be different if the overall settings were any different.
Anyhow, this magnet preamp amplifies the RIAA equalized signal to the line-level signal in the blink of the eye, and it comes supplied with a 3.5-inch mini-jack output and the usual RCA jacks. The 3.5-inch output lets you connect this preamp to any analog input speakers. Very durable and reliable, but still far from perfect – it's not too versatile and it costs top dollar.
Pros
Exceptional performance;
Great RIAA equalization;
Phenomenal when used with high-end technology;
Cons