Introduction to the most beautiful turntables
Record players have gone through a manifold of transformations over the course of the last couple of decades. The first that we ever saw were rather simple, but they were a huge boom. Nearly every home would have one.
Since they became popular pretty fast. It's only natural that more and more manufacturers of electronics (and similar branches) wanted to enrich their catalog with record players as well. This led to a thriving industry and to the development of the turntable market that we know today.
Anyhow, every manufacturer has their own taste on tone they want, the design of today's record players, so now we have different categories. We're talking belt drive record players, all-in-one record players, over-the-top record players, and so on. We're mainly interested in the best-looking record players.
Vintage record players – beauty beyond words
If we take any turntable as an example, we could say that it's beautiful. These contraptions emit an aura of nostalgia and reminiscence, so even though they're mechanical constructs, they live and breathe, in a sense. Now, discerning a beautiful turntable from the beautiful record player doesn't require a set of keen eyes. Once you've seen them you'll know what we're talking about.
The best-looking turntables are specially designed so that they look unique. There's an obvious pattern that can easily be noted if we observe any other category of record players. But that's not the case here. The record players we've come across are all but ordinary.
Reviews of the best looking record players
Bang & Olufsen Beogram 4000
Bang & Olufsen's Beogram 4000 looks like a pleasant dream. It has a rather straightforward design, and it certainly looks familiar. This type of a record player was a standard back in the day when they started making them, but the details are odd.
Beogram 4000 has a square design, but it's a bit thinner and wider when compared to a standard record player. The dust cover is also peculiar – it's both reflective and transparent. Anyhow, the reason why this record player is unique is because it was the first of its kind. It was invented in 1972 by Bang & Olufsen, and it was labeled as the first ever electronically controlled gramophone.
The designer of this beautiful piece is Jacob Jensen, which brought him much praise for this accomplishment. Anyway, it's a bit sad that this model's production life was short – production has stopped in 1974.
Pro-Ject Debut Carbon Turntable
Pro-Ject is a famous brand, and their turntables are said to be some of the most beautiful on the market. The Debut Carbon is, perhaps, their finest work, and there's a very good reason for that – it features a beautiful design, an incredibly simplified, reflective plinth, a matte black platter, and a Sci-Fi turntable stylus.
Now, it's safe to say that this turntable is somewhat "modern", and it lacks the "vintage" quality, but that doesn't mean that it isn't beautiful. In fact, that just adds to the overall charm. Pro-Ject's Debut Carbon is one of the best-selling record players as well. The price is a bit steep, but the outward appearance and the overall performance of this record player is unprecedented.
Debut Carbon's main color is matte black, but it's available in various different colors – avid blue, red, gray, yellow, white, and purple. Each model (and color) comes with the same set of features – an 8.6-inch carbon fiber tonearm, a large platter with added weight for increased stability, a precision belt-driven motor, the innovative DC supply of power with an accurate DC-driven generator, TPE suspension, and the felt mat.
Wega 3300 Stereophonic System
Wega 3300 stands out from the rest. It's not a turntable, it's not a stereo system – it's both. This record player is tucked neatly inside a furniture piece, and its cover is, surprisingly, an equalizer table. Some people think that this design is odd, but it's actually amazing and innovative.
Most people would find themselves at a lack for words when they first see Wega 3300 Stereophonic system, as there aren't many things that look like it. It's definitely unique, but it also has a set of phenomenal features – it's not just looks.
The plinth of this outstanding record player is made of painted wood (with a single chrome-plated metal bar connecting the plinth with the bottom support), and the overall construction features painted metal, brushed aluminum, plastic, and rubber.
Wega 3300 Hi-Fi stereophonic system is the full name of this product, and its designed is Verner Panton, a Danish inventor and manufacturer. The full dimensions of this record player are 23.8 inches by 16.7 inches by 16.7 inches.
REGA Research is a reputable brand that brought the turntable design onto a completely new level. This manufacturer understands the need for simplicity, grasped it, and improved it. REGA RP3 custom is the pinnacle of their craftsmanship (alongside Rega Planar 2), and it certainly deserves their spot among the best looking turntables and record players.
Now, Rega RP3 custom is special for two reasons. First of all, it has a set of unique features – it comes sporting a RB303 turntable stylus, it operates on Double-Brace technology, the hand-tuned motor operates with extremely low noise and vibration (24v, to be precise), the plinth had 3 finishes, and the premium-quality Elys 2 turntable cartridge.
Secondly, it features a magnificent, simple design that is practically Rega's trademark. The only downfall of this exquisite turntable is that it comes at a steep price.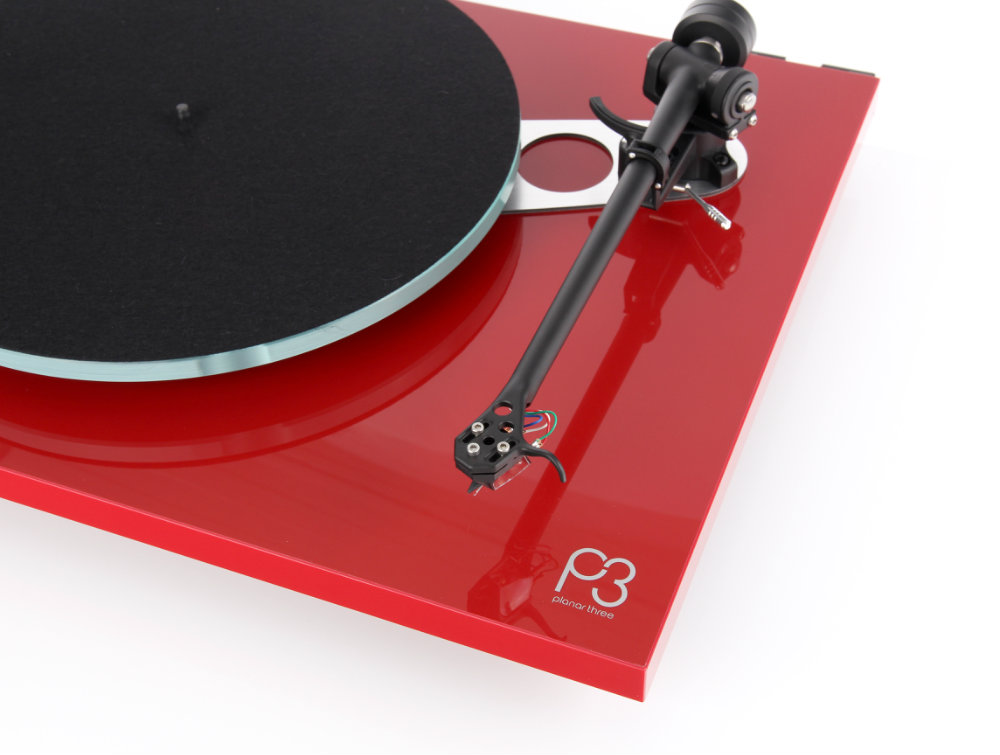 While Debut Carbon served as the stepping stone to stardom for this magnificent manufacturer, the RPM 9.2 made sure they stayed there. This turntable features a design that's on a close border between being "beautiful and simple" and "urban and exquisite". The reason for that is because Pro-Ject is quite famous for making beautiful turntables with a straightforward design.
Anyway, RPM 9.2 is equipped with both the chassis & motor which are housed in the piano-lacquered gray color. The AC motor runs pretty quietly with the two-step pulley that drives the platter's edge by means of the belt (a belt-driven turntable). The fiber plinth of medium density rests on the height-adjustable feet (three of them, actually, each has a magnetic field of their own).
The motor lies in a completely separate housing (metal) – this was done to put the vibration transmission to a minimum. Now, the platter is what makes this turntable exquisite – it's a resonance-optimized platter that sandwiches the construction with the acrylic weighing of 3.5Kg.
All in all, it's a beautiful turntable that deserved its place among the top, but it's also quite expensive. Collectors, audiophiles, and people with deep pockets might be interested in it more than most.
The Nordic Concept Reference Turntable
This turntable is unique, no matter how you look at it. It's actually a set of two separate record player plinths. One should be used to finely attune the sound output via the controls, and the other should be used to set the records spinning.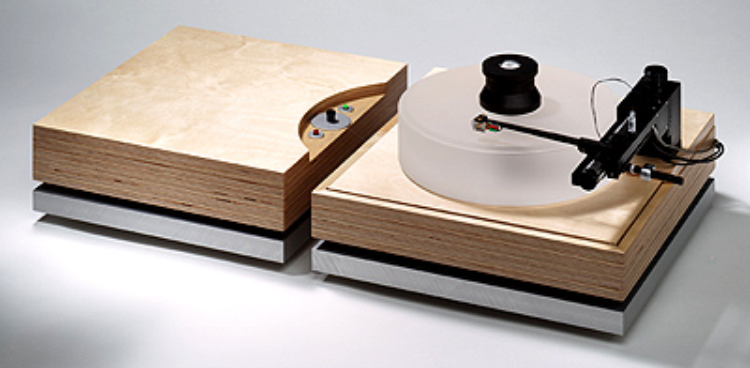 Now, there may be other record players that have a similar design, but they're pretty obsolete, so it's safe to say that this one takes the badge for uniqueness. The manufacturers of this turntable refer to the design as "dual-cabinet construction". Each cabinet implements the use of Base Technology damping system. This was used to reduce the effects of vibrations in cabinets.
The features of this record player (apart from the two cabinets) include a turntable platter, a record player arm. Also, there is the integrated phono pre-amplification device, and the low-hum, low vibration motor. The acrylic platter (80mm) is able to deliver a constant, deep tone, and the puck is integrated for level adjustment. The ceramic bearing features an extremely accurate, balanced, and machined construction while the thin belt minimizes the vibration transfer.
You won't have to charge this record player again unless it played for 48 hours straight. This is a pretty good run-time for a turntable. Anyhow, since we're most interested in the outlook and the outward appearance of these turntables, it's safe to say that this one is definitely attractive. It's unique, it's exquisite, and you could always brag about it.
Michell Transcriptor is, to say the least, a contraption that looks like a turntable, but most people would say (at first sight) that it's something more scientific. The only thing that connects it to the standard record player is that it comes supplied with a turntable plinth.
Every other feature is exquisite, and you could make a deduction that it's a turntable when you see the stylus. Most people, however, would marvel at the design of the platter. It's adorned with various magnetic pipes and it would be an understatement to say that it's just "beautiful".
The outward appearance of this record player is captivating, and the only flaw is that it's very expensive. However, great things often come at such a price, so we could easily say that it's "expensive, but cost-effective".
Electrohome's Apollo goes back to the beginning of the early 80s, as you can probably say yourself by looking at its design. It actually resembles a disco ball, probably because the designers found inspiration in the disco wave that hit that generation.
It's definitely exquisite – even the speakers are round. There are some good, and some bad things about it, however. The good thing is that it's pretty affordable. It belongs to the cheap price point category, but the bad thing, is that it's not so easy to find a willing seller.
Electrohome's Apollo was made a long time ago, and the manufacturers discontinued the production of this model nearly three decades ago, so there are only a few of them left. It features a unique design, a set of exquisite speakers, and the adorable dust cover, but its performance is not what got it famous, that's for certain.
DaVinci's Gabriel is, without a doubt, the best-looking turntable that the world has ever seen. It's actually more of a construction than it is a turntable.  It features four tonearm bases that are carefully connected with each other, and the beauty of this contraption can hardly be described with words.
Each base has a reflective surface that's extremely durable, and each base has a set of unique supporting legs. Now, the best thing about it is that it comes supplied with a huge turntable stylus that could hardly be replaced in the case it ever gets broken down. So you might want to be careful about how you handle it.
Now, this record player is extremely rare and expensive, but it's a keeper. This turntable was built to last, and there are only a few of them left, so if you're a collector, you'd best hurry. The record player itself is quite heavy, but once you've set it up, you wouldn't want to move it anyway. Most people develop a tendency to simply awe and marvel at its beautiful construction, putting the music experience in the second plan.
If you're a person who values aesthetics, this just might be a perfect turntable for you. DaVinci's Gabriel isn't just for show, however. The sound output capabilities of this magnificent record player are extraordinary. Anyhow, the only flaws of this record player are that it costs quite a lot, and it's not so easy to find it (discontinued by the manufacturer).
There are several reasons why we shouldn't call Transrotor Artus a "turntable". First of all, it's a huge contraption. If we put a regular sized turntable next to Artus, it looks miniature and inferior. Now, you might be thinking – "What would I do? I could easily get a smaller record player and be done with it." That's true, but would you be able to find a better-looking record player? Hardly.
Secondly, Transrotor Artus weighs 250 kilograms. That's way too much for a turntable, and most people wouldn't even be able to lift it (unless they're heavyweight lifters). The same question would apply – "Why would you bother with a contraption that's so heavy?". Now, you really don't need to move it away once you've put it in a proper location. It's beautiful as it is.
Lastly, it's more of a machine than it is a turntable. The method of operation of this record player is extremely complex, and involves various hooks, lines, buttons, and connections. All of these little features provide a unique sound output. Hearing music from Artus and from any other record player simply can't compare.
Usually, these turntables wouldn't go beyond $10,000. Transrotor Artus costs 10 times as much, and more. This pretty much culls the list that could afford it by more than three thirds, so if you're one of them, you might want to pay attention.
You simply can't get any better than this. Artus Transrotor is superior to other turntables in nearly all aspects. The sound output is something that words can't describe. Durability is impressive, the outward appearance is beautiful and captivating.
It can be yours at a ludicrous price, and it's extremely heavy. If you can look past those little flaws, we have ourselves the best record player that money can buy.
By simply saying "a beautiful turntable", most people don't have these models in mind. The sole purpose of this article is to get you acquainted with some models that are pretty hard to find. Most of them are unavailable for purchase on the official market, so it's safe to say that you couldn't just stumble upon them.
There isn't the "best-looking turntable". Different people, different tastes. Now, what we can provide for you is a list of some of the best-looking record players. You're bound to like at least some of them.