Pro's: We like the retro feeling of this system. The colors and design add a nice 1960's touch to your home decor. Next to that it is very easy to handle and all the features work just fine. For a record player in the $$ price range this is a good buy!
Con's: The sound quality of the inbuilt speakers is not great. Consider to connect a pair of external speakers, of look for record players for over a $100.
This is what we think of the Gadhouse Brad Vintage Record Player
There is nothing as satisfying as getting a record player of less than 100 dollars price tag which combines both the old and modern features, allowing you to enjoy your music the way that perfectly suits your mood.
The current renaissance in the music recording industry has not only enabled you to buy an extensive array of throwback classics but also the latest records. Whether you want to listen to your favorite old vinyl records or the latest tunes in digital format; the Gadhouse Brad Vintage Record Player allows you to enjoy both of the worlds with its cool, vintage-inspired design.  Let's take a look at this top-performing, affordable turntable.
Gadhouse Brad Vintage Record Player Description
Design
One outstanding thing about Gadhouse Brad is its distinctive ability to deliver vinyl music in style. With inspiration from vintage music players and modern technology, Brad is designed with an aesthetic vintage appeal for a nostalgic music experience.
This music player is made from high quality polished plastic that you can say was inspired by or simply reflects the era of 60s and 70s. Actually, it comes in two colors, retro green and rock'n'roll grey which are also borrowed from the retro era itself.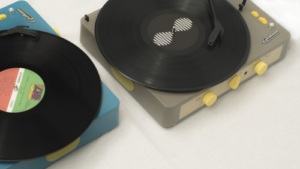 So, if you are seeking for a genuine uniquely designed music player with a retro look yet includes modern features, you should consider the Brad Vintage. It is designed to add a unique finishing touch to your décor while at the same time give you the best music experience.
Sound Quality
Unlike traditional sound systems, Brad features all functionalities from speakers to amplifiers into one complete compact size. It includes Bluetooth speakers as well as a modern dock making it an advanced music player with a retro look.  With its integrated speakers you can play your favorite songs via Bluetooth using your Smartphone, tablet or even the laptop.
Although its sound quality doesn't match that of high-end turntables, Brad Vintage delivers a decent digital sound quality from its in-built stereo speakers.  Therefore, if you are looking for a good sound quality with a bit of a nostalgic trip down the memory lane, Brad Vintage got you covered.
# Read what others say about the sound quality here!
Overall Quality and Usability
Generally, Gadhouse Brad is an awesome record player with numerous features that render your listening experience more enjoyable. Its retro styling is very nice, it's got an old-school design, but without too much exaggeration. The green, tan, and yellow colors are a perfect match for many vintage decors.
Gadhouse Brad is built solidly, and nothing seems cheap generally; the top is firm and opens and closes effortless. Bluetooth capability can be used to connect to external sound systems quickly and easily with no issues.
Features and Specifications
plays 7-12″ vinyl records
Belt-driven Mechanism
Three-speed turntable: plays 33 1/3, 45, and 78 RPMs
Built-in Bluetooth: Allowing you to stream music from your mobile device
55mm audio jack: Allows you to connect headphones to the vinyl record player for times when you want to listen to MP3s alone
Distinctive vintage look in retro green or grey
RCA line out jacks
Ruby stylus
In-built Stereo Speakers
Volume adjustment knob
Play and pause lift lever
Function select
Specifications
Dimensions: 12.5 x 6 x 6 inches
Weight: 4.8 pounds
Color: Green, Grey
Brad's Key Features
This record player is a retro-modern blend of an old school style and modern style. This all-in-one player features wireless Bluetooth connectivity allowing you to play all your digital favorites via your music player or phone on its high-quality integrated speakers. The two 3.55mm audio jack allows you to enjoy your best hits with a headphone, all by yourself.
The turntable features belt-driven capability, which runs at three-speeds enabling you to play 7-inch to 12-inch records at 45, 78 RPMs and 33 1/3, this allows you to listen to all of your favorite vinyl records irrespective of the size. It has a full range, dynamic stereo speakers as well as both headphone and RCA outputs.
If you've been playing songs using a record player, you may have notice that as the stylus wears down over time there are some slight distortions in the quality of sound produced. Furthermore, there is always an increase in the number of jumped tracks due to the same wear and tear. As you continue using the record player in this condition, the stylus will eventually break and that's the end of you enjoying your favorite songs again.
However, that's not the case when it comes to Brad Vintage. Instead of kissing your precious record player good-bye, Brad Vintage allows you to replace the needle with the Gadhouse Universal Replacement Stylus. Thus, you can enjoy your favorite songs for as long as you wish without having to worry about a wearing stylus.
Pros
Decent sound quality
Easy connection with different gadgets through Bluetooth connectivity,
Has a solid performance
Easy to operate
Can play various sized vinyl-records starting from seven to twelve inches.
It is portable and light.
Affordable
Cons
Lacks USB connectivity
Cannot convert vinyl records to MP3
Customer review and scores
This vintage vinyl player is available in the $$ price range with an average decent positive review score. This portable record player comes in retro-green and grey color.
According to most of the reviews, many customers are very pleased with the item. It's sound quality, ease of use, ability to play all vinyl records and the price are positive factors. However, there are several negative feedbacks, the most evident being complaints about sound quality from its inbuilt speakers, which can be easily remedied by connecting to external speakers via the Bluetooth option to enhance the experience further. All in all, Brad can make a good buy considering its affordable price and the plethora of amazing features it carries.
Price
The price of a Gadhouse brad vintage is in the $$ price range. Check the actual price on Amazon.com here. Compared to other record players with the same price it makes a good purchase, especially if you are planning to start out on turntables. It will perform incredibly well as long as you don't intend it for DJ or audiophile purposes.  Contrary to what brad's price might suggest, it is actually a highly rated vintage record player that surpasses many of its users' expectation.
Conclusion
If you are operating on a budget and you are desperately yearning for a record player experience, then Gadhouse Brad Vintage is exactly what you should consider. With a price tag of less than $ 100, this record player is yet another of Gadhouse's exceptional release.
It comes fully loaded with amazing features to improve your listening experience including Bluetooth capability, play and pause lift lever, and extreme ease of use due to its automatic operation. Although its speakers may at times leave something more to be desired, you can either use the output terminals to connect to external speakers or connect to a Bluetooth system.
All in all, this model is a must have for casual listeners as well as first-time vinyl users. The price is very fair and it comes with a plethora of features to give you an immersive music experience.