Introduction
Usually, we think that we've hit jackpot when we buy the turntable we wanted, but what if we can improve the sound we already adore? Turntable upgrades are basically superior turntable parts. Since most record player parts can be replaced, this replacement often means an improvement.
You don't need to replace the parts on your record player only when they break down – the manufacturers are so innovative these days that the market receives a bulk of turntable upgrades on a daily basis.
Literally speaking, each day brings us superior turntable parts, so you should just check what's on the menu every once in a while, and you can find perfect upgrades for your record player.
What are turntable upgrades and why should you consider them?
As we've already mentioned, turntable upgrades are various bits, pieces, and turntable parts that are supposed to improve the overall quality of your record player. There are for certain record player models, but there are also versatile upgrades that can be implemented in the design of any turntable.
This is also the only thing you need to worry about – make sure that you buy those upgrades that can be installed into your record player.
You should consider purchasing vinyl upgrades for many reasons. First of all, you can never be truly satisfied with how your record player sounds. That is, if all the parts are standard issue. Furthermore, some parts are simply better than others. Another reason why you should consider upgrading your turntable involves broken, outdated, and defective parts.
Your record player can always get better. There's no end to modification once you get hooked onto it, as replacement and upgrade parts are fairly cheap when compared to the entirely new purchase of a record player.
Types of turntable upgrades
The list of turntable upgrades is basically a list of turntable parts – each part serves a simple function which can be upgraded:
The tonearm is one of the crucial parts of every turntable. It's basically the arm that performs sweeping motions across your vinyl records. It also holds the cartridge and the turntable stylus. You should consider purchasing your tonearm once it slows down, or once the stylus and the cartridge become unstable while attached to it.
Turntable Cartridge (Phono)
The cartridge governs the performance of your vinyl records, and by upgrading it you'll upgrade the overall sound quality of your record player. Cartridges can be purchased cheap, but there are models that cost above $100.
The stylus is also called the turntable needle. This part reads the information on vinyl records and performs the process that's called tracking and reading. A good record player needle means better sound.
The mat of the turntable is basically a record player support. The stability of your turntable largely depends on this factor. Upgrades of record player mats involve more beautiful models, but also the ones that look better than the one you have.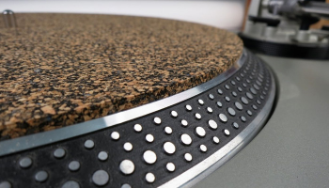 Top turntable upgrade parts
Round Lazy Susan Table Centerpiece – Breadboard with Beech Inlay Stripes 16"
Pro-Ject: Acryl-It Platter Upgrade
Tech Play Gold, pack of 2, Diamond Tipped Needle for Turntable 
Pro-Ject: Leather-It Platter Mat, Black
Plainly speaking, Leather-It is the same as Acryil-it. The only differences are in the material (which is obvious), and the price. Pro-Ject's Leather-It platter mat is cheaper than most mat upgrades.
Audio-Technica: ATN95E Replacement Stylus for AT95E & AT-LP120
If you own Audio-Technica AT95E or AT-LP120 (two of audio-technica's most famous models), the ATN95E stylus is something you will want to have. This record player stylus is simply superior when compared to other models, and it's fairly cheap too.
This turntable stylus falls into the moderately expensive price point category, but it's certainly valuable for the money.