If you were listening to your favorite tunes on a record player or perhaps you find it enjoyable to play a song on a record player only now, maybe you have been wondering how to connect your record player to the computer, this will help you do the job easier for sure.
Anyhow, this process isn't that hard to do and we will help you understand it easily. In the beginning, you must be sure that you have all the parts that are necessary to connect your record player to your computer.
With the little bit of patience, you should enjoy your music tunes on a computer which you connected to a record player.
How to connect your record player Basics #1 – Using the burner
There are many ways of connecting your record player to the computer, but we will show you only three ways that we find most functional and easy to do.
First, you should use an all-in-one turntable/cd burner.
Some people say that this way is the easiest of all ways to do. Every record player features a CD burner and a turntable place on the same machine. You will need to simply burn the CD in the device itself, and then take the burned CD and play it on your computer.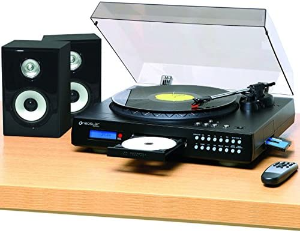 As we said before, this is quite easy and not hard to remember method. With this way of connecting your record player with the computer, you should not have any difficulties in listening to your favorite music.
Be aware that you might not be able to select individual tracks with this method and that can be a little bit of a down side of this way of connection.
How to connect your record player Basics #2 – USB jacks
The second way of connecting your record player to the computer is by using a USB turntable. This way is considered to be a little bit less expensive than the all-in-one units, so most of the people are choosing this way. It may seem to be the first method you will use to do the job of connecting these to machines, but this requires you to interact with the computer itself and install some software in order to do it correctly.
If you happen to have a little bit of knowledge about the software that is used for record players, you should not find any trouble in this method. Otherwise, this will be a little bit harder to do for someone who is new to all these stuff.
Three examples of USB turntables:
How to connect your record player Basics #3 – Audio interface
Third but not the least way of connecting your record player to the computer is by using an audio interface. This method is used by the people who know all the things required to do the connection between the turntable and the computer.
If you choose to go with this method, you first need to understand the difference between the ''line-level'' and a ''phono-level'' signal. That is why this way of connection is used by a fewer number of people. Some turntables have line-level outputs, but most of the turntables have a phono-level output. So in order to do the job here, you need to convert a phono level output to the line-level, and that is only possible with the preamp.
Using the preamp
The preamp is making it possible to balance the level of frequency and bring it to the line-level audio. Some audio interfaces have a unique phono inputs only made for to connect to the other devices. This will help you quite a lot, and it can save you some time as well.
There is also a way of connecting the old record player to the computer as well. If you happen to have a little bit older model of the record player, you should definitely find that it has an output in phono level. This only means that you need to get that phono preamp and connect it carefully to the computer and record player.
Summary and conclusion
This three ways will work on every kind of computers you have, it doesn't matter if it a Windows or a MAC computer, you will find it very easy and functional. There are perhaps, some other ways to do these connections, but we only chose this method to go with.
Also, there is only one more thing left to do when you finish the connection between the record player and the computer, and that thing is to enjoy the music as much as you want. Use your headphones, or play it out loud on your speakers. That is all up to you to decide, the only thing that is certain is that you will have fun and enjoy it.