Introduction – What is a turntable phono cartridge?
This little mechanical device is used to convert the vibrations sent turntable needle into a special, electrical signal. This transmission is later received and amplified before it reaches the final stage – sound.
What is a phono cartridge made of – parts and terminology
The cartridge is comprised of five basic components – the cantilever, some magnets, coils, the stylus, and body:
The cantilever is commonly made of aluminum (boron material is also quite regular), but manufacturers that boast the best turntable models often equip their cantilever with exotic gemstones;
The turntable needle (stylus) is one of the most important parts, and you can find turntable needles in two different shapes – they're either elliptical or spherical. The Elliptical stylus models are able to pick up larger doses of information. The spherical stylus models are placed in the higher position, wearing down at a slower pace;
The magnets and coils combined generate the music signal made by the information gathered from the stylus;
The body of the turntable cartridge is affixed to the turntable tonearm, giving the mechanical bits and pieces a solid, stationary platform to operate with the highest precision;
How does a phono cartridge work?
There are a lot of types of magnets and coils that were implemented in the phono cartridges over the past century – in the early 1950's the magnetic cartridges have replaced the usual ceramic pick-ups (crystal pick-ups were also popular, but they were really expensive). The less common types are Moving Micro Cross & Moving Iron turntable cartridges.
It would take forever to explain how each type works, so let's get down to the point – how phono cartridges work. The best low-cost cartridges usually implement the use of the moving magnet design. With this design, the cantilever has a small magnet, located between the two sets of copper coils (fixed position), which form a small electromagnetic generator. The magnet then vibrates as it responds to the needle, inducing a small current between the coils.
Mainly because the small magnet has a small mass value (and because it's not coupled with the generator itself – such was the case with ceramic cartridges), the turntable needle requires less force to follow the groove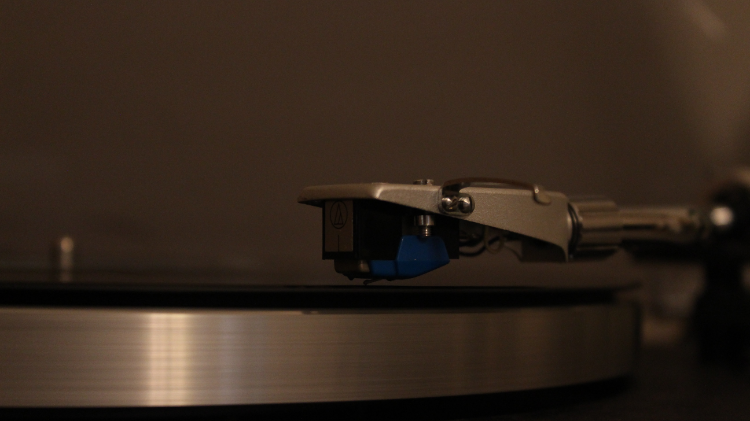 What's the difference between a premium quality and a mediocre cartridge?
Knowing how a cartridge works and what's it comprised of tells us the difference between a mediocre one and a premium quality one. It's important to note that cartridge's cost does not affect its longevity – they generally never wear.
Those turntable cartridges that are poorly designed produce less amount of electric friction which either burdens the turntable needle forcing it to wear down in a more rapid manner, or causing it to work with reduced accuracy when compared to the more expensive counterparts.
These differences sound grave when we put it down scientifically, but only people with sharp hearing might notice a crucial difference – these are small parts that act in the symbiosis with various other tiny fragments of the turntable, but they do affect the overall sound performance.
What can you expect of a turntable cartridge below $200?
First of all, $200 is a considerable sum of money when it comes to the turntable investment. Most record players that boast quite a value cost this much altogether, but you would be surprised at what an expensive turntable cartridge can give you.
It's safe to say that $200 "today" isn't that much when turntable cartridges are in question – most record players come equipped with standard models of cartridges that have only a considerable amount of impact on the overall performance. If you want to upgrade your cartridge, paying $200 or less is a necessity.
These cartridges can offer you more than what you get with your record player, but less when compared to the best cartridge models. It also varies from product to product – some manufacturers have their prices up with no actual reason for that while some genuinely have that value.
Top 5 Picks For Best Phono Cartridge Under 200 Dollars
Audio-Technica AT59E Universal Mount Phono Turntable Cartridge
If you remember the part when we mentioned the Moving magnets, Audio-Technica AT95E is the model which implements them in their use. Audio-Technica is well known for the quality they offer with each product, and AT95E is not an exception – it's quite on the contrary. This model has a needle guard, it's supplied with high specifications, and it boasts extreme reliability and durability.
Shure M97xE High-Performance Magnetic Phono Cartridge
Shure M97xE is a version of V15VxMR cartridge which was discontinued. The earlier version had higher specifications, but a much higher price as well (which was one of the reasons why it was discontinued). It does not put a lot of pressure on the turntable stylus and is able to track down virtually everything. It's designed with a special side-guard turntable needle protection which limits the needle and cantilevers potential damage. Excellent value for a reasonable price.
Ortofon – 2M Red MM Phono Cartridge
Ortofon 2M Red is a product of collaboration between Ortofon and Moller Jensen Design – another perfect example of how moving magnets can change your musical experience. The 2M red offers an improvement in the engine, an elliptical stylus shape, and incredible separation.
Sumiko – Pearl MM Phono Cartridge
Pearl is definitely the best model in Sumiko's Oyster Series which offers incredible performance at a bargain price. Some of the best features Pearl MM can offer you are the exquisite tracking ability, high-power generating system, and reduced sonic interference.
Grado Prestige Black 1.5 Mount Turntable Cartridge
This is one of the six Grado products of the Prestige Series – each model is paired in colors, and each pair gradually increases in performance specs and price. The Black1 is the least expensive (and offers the lowest specifications), but it's still able to give quite a lot while demanding but a speck of what it can offer you.
Pros
Elliptical Diamond which is mounted in the brass bushing;
Frequency of response ranges between 10 and 50;
Reconfigured coil;
Cons
The least powerful out of 6 Grado Prestige models